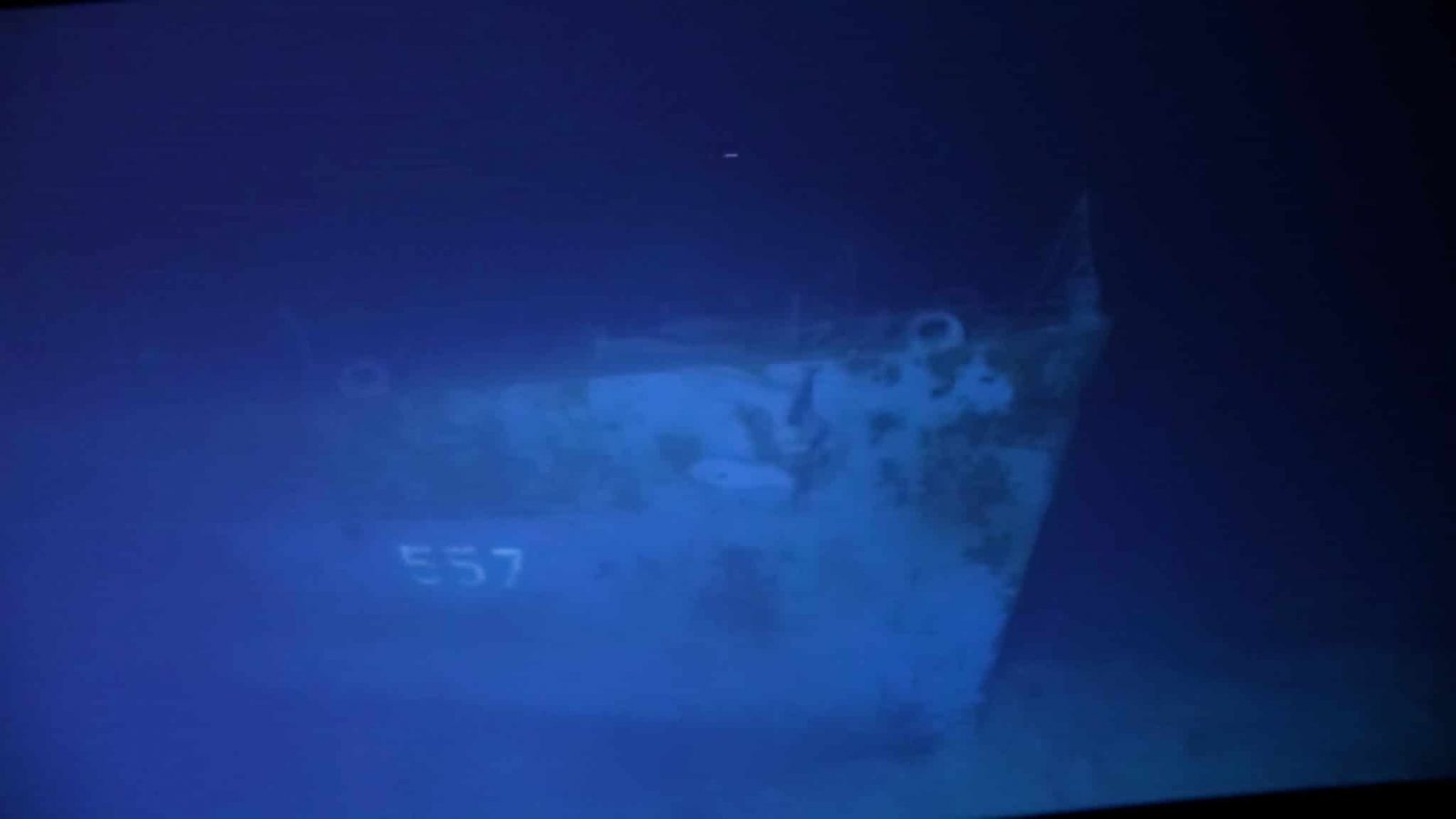 A mission subsidized by undersea skills company Caladan Oceanic and led by entrepreneur, explorer and retired U.S. naval officer Victor Vescovo has announced they've identified a fraction of wreckage belonging to a World War II destroyer and is the deepest shipwreck ever found.
The Fletcher-class destroyer USS Johnston (DD 557) used to be misplaced on the Strive against off Samar, segment of the Strive against of Leyte Gulf, on Oct. 25, 1944.
Imagery from the placement clearly shows the ship's hull number 557, confirming the identification of the spoil.
In response to U.S. Naval Historical past and Heritage Interpret Director and retired Rear Admiral Sam Cox:
"The portray is spectacular and we live up for seeing the remainder of the suggestions composed for the length of the expedition for the reason that story of the Fletcher-class destroyer USS Johnston (DD 557) and her crew is a glorious example for contemporary Sailors of the honor, courage, dedication, and valor of their predecessors from the Finest Expertise."
The consult with to the Johnston's spoil region used to be conducted by strategy of Vescovo's manned deep submersible "Limiting Element," which has beforehand been to the deepest level in all five oceans.
The spoil of a Fletcher-class destroyer used to be first positioned on the fringe of an undersea cliff in October 2019 by Vulcan Inc. and their study vessel R/V Petrel. At larger than 20,000 toes (6,096 meters), it used to be the deepest shipwreck ever stumbled on.
U.S. naval historians assessed the spoil as doubtlessly Johnston per relative blueprint, though the Johnston and the Hoel (DD-533) — each of which sank within the equal fight — occupy been in relation to equal Fletcher-class destroyers. The spoil had facets identified to be on Hoel but no longer confirmed on Johnston, as they'd occupy been post-construction add-ons.
Vescovo positioned the Johnston's bow further down the cliff face to about 21,180 toes (6,456 meters).
Vescovo has been talking with the U.S. Navy about his investigation of the spoil and the protocols for no longer completely keeping it but respecting it because the final resting place for many of its crew. He has committed to offering the Navy along with your complete sonar files, imagery and area notes composed by the expedition.
In response to Vescovo:
"We occupy a strict 'quiz, don't contact' coverage, but we web loads of cloth that is extraordinarily functional to historians and naval archivists. I give it some opinion is extreme work, which is why I fund it privately and we recount the fabric to the Navy pro-bono."
At the conclusion of the expedition, the Caladan Oceanic group brought their surface vessel DSSV Stress Fall to a terminate within the vicinity of the fight, sounded the ship's whistle, and laid a wreath in honor of the lives misplaced there.
Vescovo added:
"In quite loads of methods we occupy now come elephantine circle. The Johnston and our occupy ship occupy been constructed within the equal shipyard, and each served within the U.S. Navy. As a U.S. Navy officer, I'm proud to occupy helped lift readability and closure to the Johnston, its crew, and the families of those that fell there."
(Image credit ranking: Caladan Oceanic)